Few morning showers, cloudy and breezy afternoon
Published: Nov. 21, 2023 at 4:52 AM CST
PEORIA (25News Now) - Showers will continue into our morning's forecast after a wet start to the abbreviated work week. Our rain chances have been driven by a passing area of low pressure which is now off to our northeast. As this area of low pressure continues to slide northeast, it will help move any lingering showers out of the region. We will clear back out in time for Thanksgiving as high pressure briefly drives the forecast.
Scattered light rain is expected to linger through the morning commute before gradually coming to an end. While we will begin to dry out, it will remain a gloomy day with cloudy skies through the work day. As the area of low pressure slides northeast, winds will ramp up with gusts up to 30 miles per hour out of the north-northwest. These winds will be strong enough to drop wind chills a handful of degrees. Daytime highs will trend in the mid to lower 40′s, but the winds will make it feel more like the mid 30′s so you may want the coat today.
High pressure will begin to build tonight into Wednesday's forecast helping bring quiet, more sunny weather back to Central Illinois. Highs will reach the mid 40′s Wednesday and the upper 40′s to the lower 50′s for Thanksgiving! Thanksgiving will feature mostly sunny to partly cloudy skies, making for a seasonably mild day.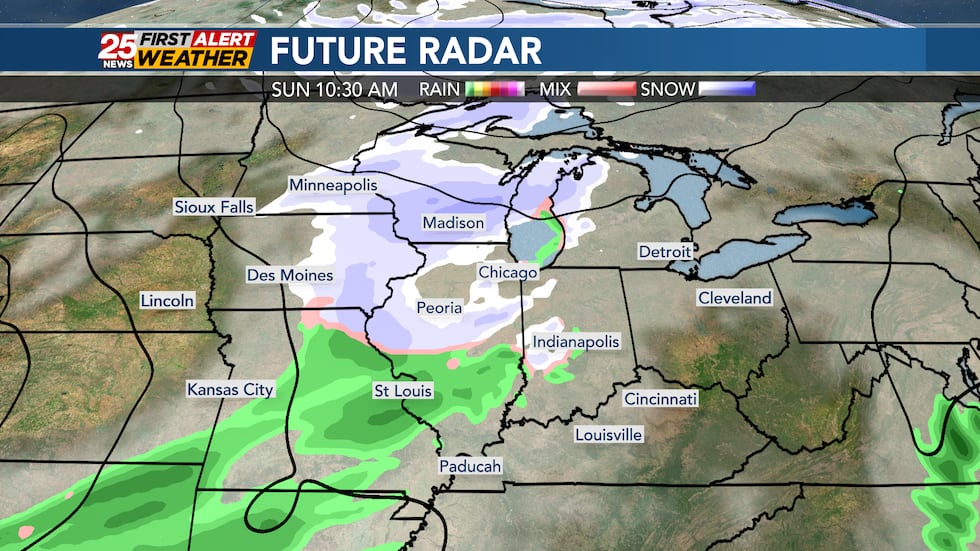 Our forecast will trend cooler starting Friday and into the weekend. Daytime highs will trend in the upper 30′s to lower 40′s each day. Another storm system looks to take aim at Central Illinois Sunday with the possibility of light snow showers or a light wintry mix.
Make sure to tune in this morning for the full 10 Day First Alert Forecast!
Copyright 2023 WEEK. All rights reserved.