Rain likely at times tomorrow
Showers will continue through Tuesday morning
Published: Nov. 19, 2023 at 4:04 PM CST
PEORIA (25News Now) - It was a seasonably mild weekend, but we can say goodbye to that as we head into our abbreviated work week. Forecast models continue to trend not as cold, but seasonably cool weather is still expected for most of the week. Rain is also on the way tomorrow and Tuesday morning, but otherwise most of the week should be quiet.
This Evening and Tonight:
Mostly cloudy skies will continue throughout the evening and overnight. Lows will mostly be in the low 40s tomorrow morning, which is about 10 degrees above average for this time of year. A few areas north of I-74 may dip as low as the upper 30s.
Tomorrow and Tuesday:
Tomorrow will start cloudy and dry but rain will return later in the day. Some showers may be possible as early as late tomorrow morning, but expect a better chance for periodic showers tomorrow afternoon and evening.
Highs tomorrow will be in the upper 40s.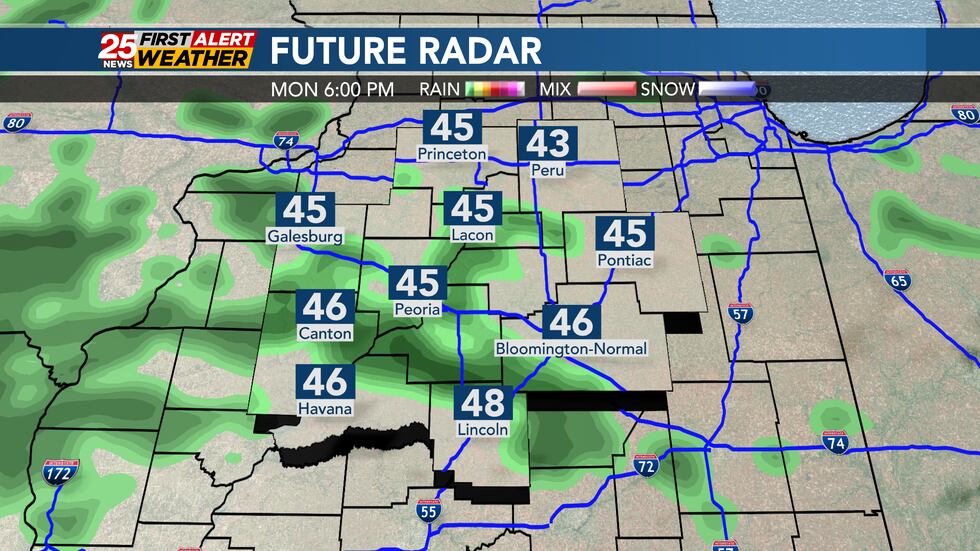 Rain will continue tomorrow night into Tuesday morning, but chances for rain will come to an end by the middle of the morning (if not sooner). Expect some clearing Tuesday afternoon and evening with highs in the mid 40s.
Later This Week:
Mostly sunny skies are expected on Wednesday with highs in the mid 40s. Forecast models continue to trend a little warmer for Thanksgiving. It now looks like we may reach the upper 40s Thanksgiving afternoon.
We will turn colder again by the end of the week and into next weekend with highs falling to near 40. We're still watching a slight chance for a weak system to come our way late this week and bring some light rain or flurries to Central Illinois. For now, those chances are only 20%. This is definitely not a guarantee at this point, but we'll continue to keep an eye on it and update you with the latest.
Tune in this evening for your full First Alert 10 Day Forecast!
Copyright 2023 WEEK. All rights reserved.