Village of McLean, population of less than 750, remains divided on old water tower's future
Village board members on opposing sides speak out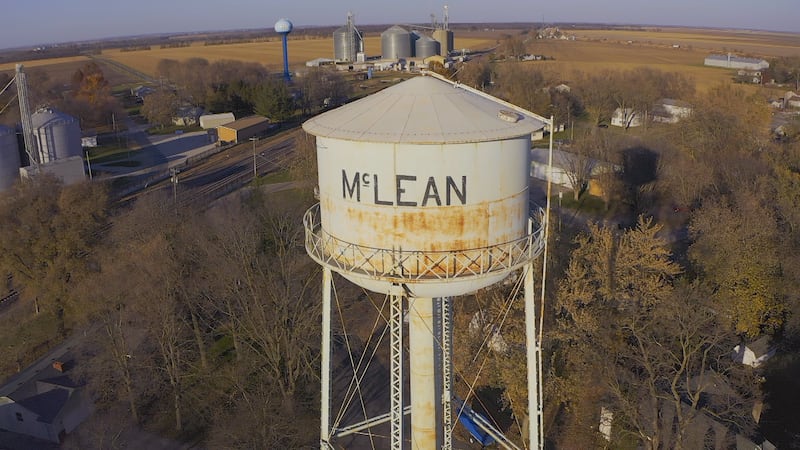 Published: Nov. 15, 2023 at 11:10 PM CST
UPDATE 11/16 - The Village of McLean's 88-year-old water tower, no longer containing water, is still overflowing with controversy.
"I think it's crazy that a water tower brings this much division to a town, but the majority voted twice to have it removed. At what point is it accepted," said Village Trustee Colton Gordon, who voted in favor of the tower to be removed.
The board voted 4-2 Wednesday night to remove the tower built in 1935. The village agreed to pay a Delavan farmer $34,000 to take the water tower off the village's hands.
Gordon said he doesn't want to run the risk of it deteriorating in the future and falling.
"History shows everything goes up in price. So, you use the TIF (tax increment financing) money to have it taken down now at $34,000, or do you take the gamble in 10 years and have it cost 200,000 to have it removed?" said Gordon.
Jeff Hake is Vice President of the nonprofit called "CORE of McLean" (Community Organization for Revitalization and Expansion).
He said the organization has raised more than the $21,000 needed for an artist to paint a Route 66 mural on the old tower. There is a mural on the new water tower, built seven years ago.
John Wille was one of two village trustees who voted to work with CORE to preserve the tower.
"So instead, the village is having to pay our taxpayer money to remove this and give it to some guy to set it up on his farm as a decoration," said Willie.
According to Willie, the village still needs to sign a contract with the farmer before it's taken down.
CORE is also trying to get the tower on a state or national historic registry to prevent its removal, but the process could take up to 18 months.
MCLEAN (25News Now) - An attempt to save the Village of McLean's 88-year-old water tower has failed, although those who don't want it taken down believe their battle isn't over.
The village board, meeting in special session Wednesday night, voted 4-2 to move ahead with plans to remove the tower. The action was taken despite arguments that preserving the tower can attract tourists along historic Route 66 and boost economic development.
Board members, meeting in front of a standing-room-only crowd, chose not to reconsider their earlier decision to pay a farmer almost $34,000 to move the tower to his property in Delavan.
A group called CORE - Community Organization for Revitalization and Expansion - said it's willing to restore the tower and keep it at its current place at no cost to taxpayers.
CORE Vice President Jeff Hake told 25News the group has raised from other sources more than the $21,000 it would cost for a Springfield artist to paint a mural on the tower.
The next step to save the tower is to have it placed on the National Register of Historic Places. Hake said an application to achieve that designation has been filed with the Illinois State Historic Preservation Office.
The tower was built in 1935 but hasn't provided water for the village for almost seven years.
Copyright 2023 WEEK. All rights reserved.