UPDATE: Caterpillar's share price sinks almost 7% despite 'great' 3Q results
Published: Oct. 31, 2023 at 10:30 AM CDT
UPDATE: Investors apparently were not satisfied with what Caterpillar's chief executive described as "another great quarter" as the share price for the heavy machinery maker dropped 6.7% after the release of third-quarter results.
Caterpillar's stock on Tuesday fell to its lowest price since early June, winding up at $226.05, even as the company said third quarter sales and revenues rose to $16.8 billion. That's up 12% from the same time a year ago thanks to higher sales volume and favorable price realization, the company said in a news release.
Profit-per-share for the third quarter was at $5.45, up from $3.87% in last year's third quarter.
"I'd like to thank our global team for delivering another great quarter, as demonstrated by double-digit top-line growth, strong adjusted operating profit margin and robust ME&T free cash flow," said Chairman and CEO Jim Umpleby in a prepared statement.
Some of the pessimism among investors may have been due to what the company said about the fourth quarter.
Caterpillar sees adjusted operating profit margin in the fourth quarter to be lower than the third quarter. Sales and revenues for the final three months of the year are expected to be slightly higher than the fourth quarter of last year.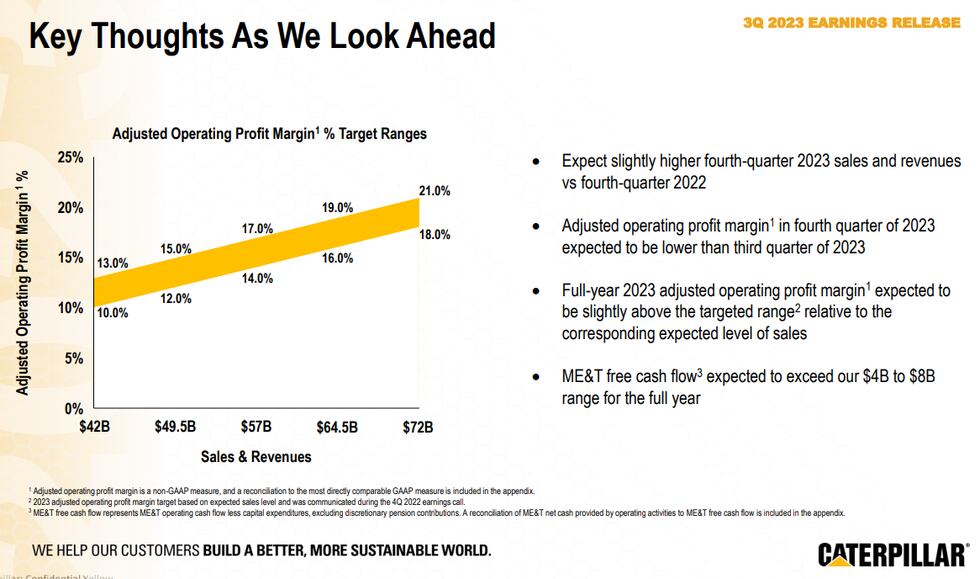 IRVING, Texas (25News Now) - Caterpillar announced a 3Q increase of sales and revenues compared to the same time in 2022.
The Irving-based manufacturer is reporting revenues of $16.8 billion, up 12% compared with $15 billion last year. The increase is primarily due to favorable price realization and higher sales volume.
Operating profit margin was 20.5% for the quarter, up from 16.2%.
Up until the last day of September, the company says enterprise operating cash flow was $8.9 billion with the company ending the third quarter with $6.5 billion of enterprise cash.
Caterpillar paid $0.7 billion in dividends and repurchased $0.4 billion of Caterpillar common stock.
The full release can be found here.
Copyright 2023 WEEK. All rights reserved.