You Gotta Eat: East Peoria pizza place wins over customers with crust and special sauce
Edgar and Andrew visit Mickie's Pizzeria on East Washington Street
Published: Oct. 26, 2023 at 9:14 PM CDT
EAST PEORIA (25News Now) - It's a pizza place with a secret sauce and a great history in Central Illinois.
Edgar Sandoval and 25News photojournalist Andrew Best visit Mickie's Pizzeria on East Washington Street in East Peoria for this week's edition of You Gotta Eat.
Edgar discovered this pizza when Mickie's was in North Pekin. East Peoria is now the only location, and Edgar wants to share how much he loves the sauce and the crust.
"It reminds me a lot of a place in East Peoria called Three Fat Guys a long time ago," said customer Jon Haeffele.
Jon's right about the connection. Three Fat Guys was run by Mickie's original owners, Dave and Michelle Flowers. Dave and current owner Robert Simpson used to race dirt cars on weekends.
"I'd just come down and help him. And he was just like, pop in and give me a hand and we'll go race on Saturdays and I liked it. I never got paid for it for the longest time. I would just come in and help it was so fun to roll the dough to do the stuff and he taught me hands-on everything about it," said Robert.
When Dave and Michelle moved to Florida, Robert and his wife took over, and the sauce that Edgar fell in love with years ago hasn't changed.
"We have a custom blend seasoning that we put into our sauce and it's definitely different.
"Dave's still never given that up 100% so we do have kind of a recipe thing that we go by, but it's a custom blend and I really don't know what it is cause it's something they had made, and we order it and it's his one-off deal. So, it's kind of a cool thing, it's proprietary towards his and it's one of the things that he wasn't going to give up and I don't think he'd ever give up," Robert said.
As for the pizza, one was half chicken bacon ranch and half Island girl - Canadian and real bacon, pineapple, green peppers, red onion and Peppadews.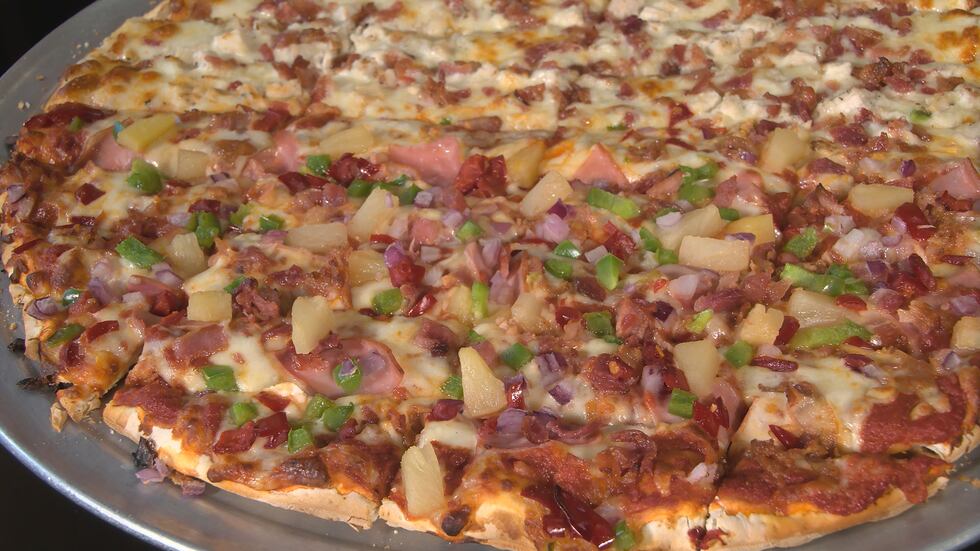 The other pizza was half Mickie's Deluxe - sausage, mushroom, green pepper and onion and half "The M" - meaning all the meats, sausage, pepperoni, Canadian bacon and smoked bacon.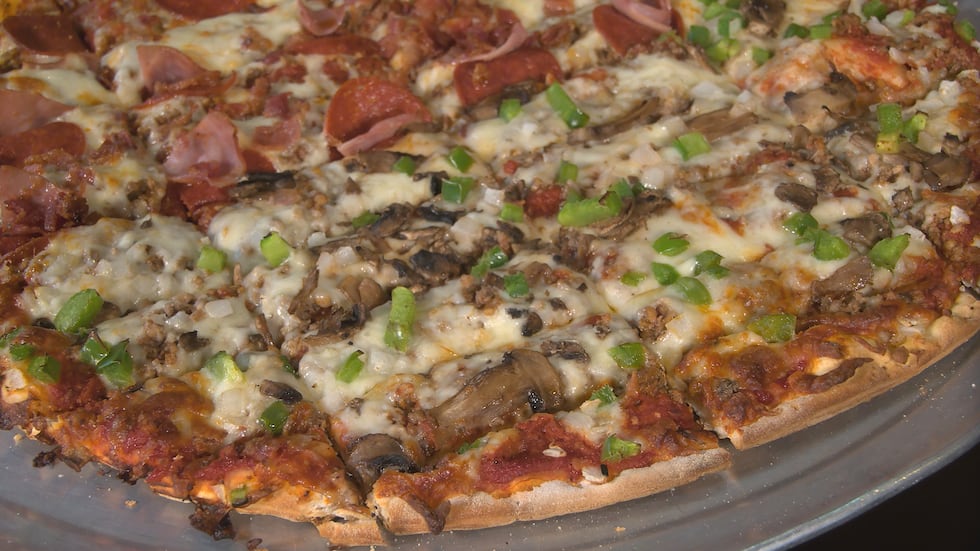 "That sauce is incredible. and especially when you've got something sweet like pineapple, it doesn't detract from either, it just works together," said Andrew.
Edgar said, "The crust is really thin, it's really light so I feel like I can eat just a ton of pizza."
Edgar is not alone in his view about Mickie's crust.
"A lot of places the crust is so thick and doughy, you fill up on crust. This isn't. You can eat more pizza because of that," remarked customer Kevin Bevard.
What about the sauce?
"It tastes a lot more tomatoey, a lot heavier tomato than your typical pizza sauces," said Jon.
Robert has a great passion for making these pizzas and sticking with what has worked for more than 20 years.
"We've stayed with Dave and Michelle's menu. We haven't changed nothing. We haven't created nothing. Why fix something that's not broke?"
Mickie's Pizzeria, located at 1051 East Washington Street in East Peoria, is open 11 a.m. to 9 p.m. Sunday through Thursday, and until 10 p.m. on Fridays and Saturdays.
You can find Edgar's standup comedy schedule on his website.
Copyright 2023 WEEK. All rights reserved.