Tazewell County group protests CO2 pipeline as company behind project presents to board
Published: Sep. 27, 2023 at 9:16 PM CDT
PEKIN (25News Now) - Wolf Carbon Solutions, the company proposing a 259-mile pipeline from Cedar Rapids, Iowa, to Decatur, made their pitch to the Tazewell County Board, but not without opposition.
It was one of the first times a Tazewell County opposition group was face-to-face with officials behind the pipeline.
Safety and property values continue to be top concerns for those residents who are on or near the pipeline's pathway. Tazewell County: Stop the CO2 Pipeline feels there are not enough regulations on pipelines and wants Wolf Carbon Solutions to hold off until the federal government releases new guidelines. Those regulations are expected in late 2024.
WCS said in their presentation they now plan to start construction in 2025. Their proposal is still awaiting approval from the Illinois Commerce Commission. That is a lengthy process and a final decision is not expected until May 2024.
"We know that this is a safe technology," Greg Webb, Vice President of State Government Affairs at Archer Daniels Midland said. ADM has their North America Headquarters in Decatur, and already sequesters CO2 in the saline aquifer that WCS wants their pipeline to end at.
"We get a substantial environmental benefit by capturing CO2 and we get substantial economic development as a result of that," he continued.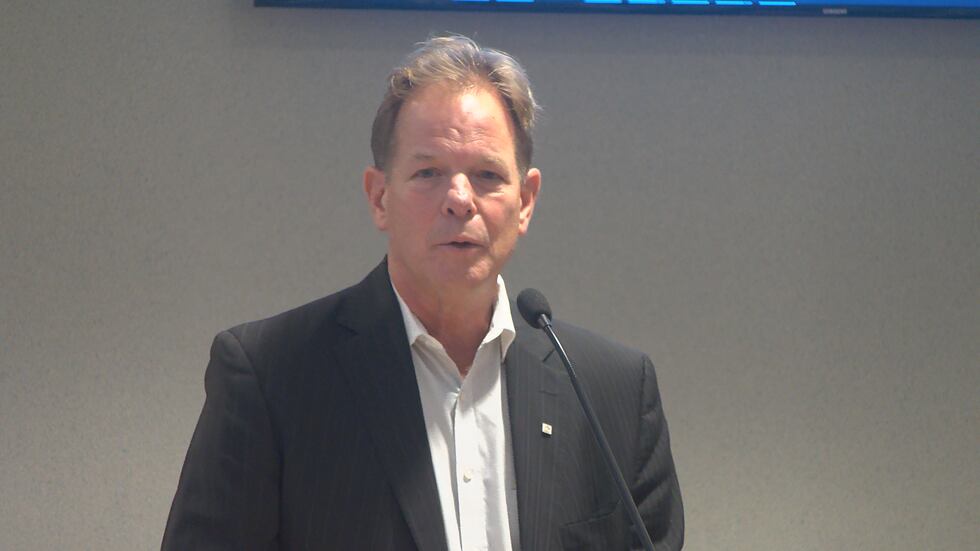 Some answers to key questions can be found in our previous Digging Deeper coverage. Some details have changed, like Wolf Carbon Solution's timeline for construction.
WCS will seek a federal tax credit first introduced in 2008 for Co2 storage known as "45Q." The tax credit offers $85 per ton of sequestered Co2. If WCS seeks to sequester 12 million tons of Carbon per year, that could total $1.02 billion in credits in one year.
The residents at the Wednesday night board meeting were not easily convinced of the safety and benefits of the project. Throughout WCS' presentation to the board, there were murmurs of skepticism and dissent in the crowd.
Superintendent of Rankin School District 98 Matt Gordon said his school board will not support the pipeline and has already made that opposition public. The pipeline will run close to the school, which has 200 students.
"The location proposed south of us is literally a stone's throw away from where our kids play at recess," Gordon said in public comments to the board. "This pipeline being located at or near Rankin is not in our best interest."
However, it was not all opposition. Local 649 with the International Union of Operating Engineers said they support the project. WCS signed a letter promising to use union labor for the project.
That support was received with boos from the crowd. Tazewell County chairman David Zimmerman continually urged respect and civility.
ADM also expressed their support and tried to urge the people there in opposition that it is a safe technology. Illinois has a goal of eliminating carbon emissions by 2050, and Webb believes CO2 capture and sequestration is a way to make that goal a reality.
WCS said in their statements that they would not like to use eminent domain to complete the project. Eminent domain allows someone to build on privately owned land if the project is determined to be in the public's best interest, regardless of whether the landowner approves.
Tracey McDaneld, Director of Government Relations and Land with WCS, said she has always acquired land voluntarily and planned to stick to that in her remarks Wednesday evening. The company is offering compensation for use of the land.
Zimmerman said the county does not have much power when it comes to pipelines.
"Our authority over a pipeline is very, very limited if at all," he said.
However, the county has filed and received a petition to intervene in the approval process. Essentially, it grants them a seat at the table and a voice in deciding whether or not the state will grant the necessary permits to WCS. Peoria County filed a similar petition Wednesday, and the Rankin School District also intends to file one.
Residents are still appealing to their county government.
"I just hope... that this board doesn't just lay down and think there isn't really anything we can do," Tremont resident Kassandra Eitenmiller said. "Having a voice and letting that voice be heard is something."
Copyright 2023 WEEK. All rights reserved.