UPDATE: Stolen cars still listed on Facebook Marketplace, Bloomington Police break up multi-state car theft ring
Published: Sep. 27, 2023 at 8:43 PM CDT
Sept. 28, 2023 (9:15 p.m.) - Bloomington Police spokesperson Bryce Janssen said he isn't sure if the multi-state car theft ring actually sold one of their vehicles to someone in the area, but if they did that person should reach out.
Earlier this month, BPD raided a warehouse at 917 W Front St., where they discovered seven stolen vehicles, many relatively new high-end trucks.
The vehicles were listed on Facebook Marketplace for sale using scam accounts that were created earlier this year. The listings were still there as of Thursday afternoon.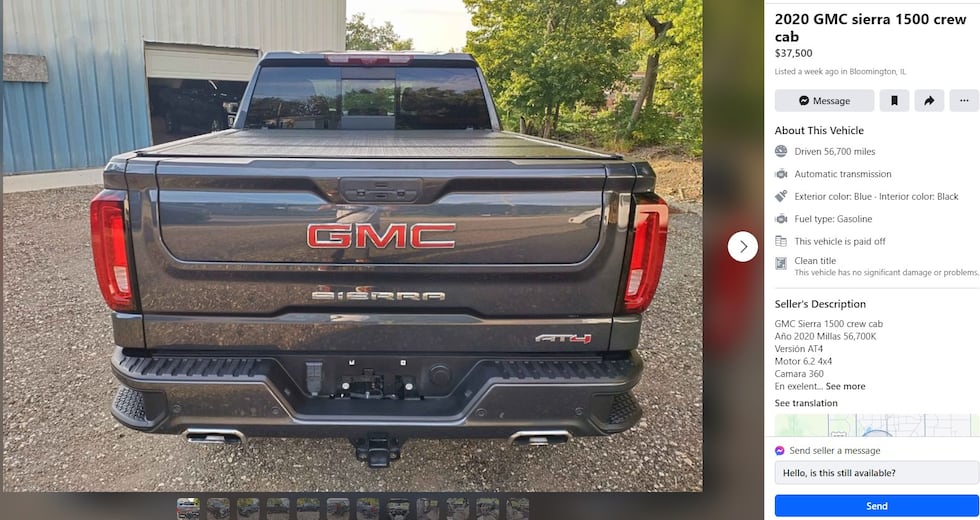 "Fraudulent sellers and buyers frequently make fake profiles to trick the other party. If there are no seller reviews, no buyer reviews that's usually a red flag," Janssen said.
During a brief conversation with the warehouse owners, they said the group of five men from Texas seemed respectable. They thought they were running a car detailing business. They did not know the vehicles were stolen and the men only occupied the building for about a week.
The owners didn't receive any advance notice of the police raid.
More details can be found in our previous coverage below.
BLOOMINGTON (25News Now) - Bloomington Police believe they've broken up a Facebook Marketplace scam involving at least seven luxury trucks and sport utility vehicles reportedly stolen from Texas.
Five Texans were arrested and charged with possession of stolen vehicles worth more than $25,000.
In court, prosecutors alleged the men tried to sell the Chevy and GM pickups and SUVs on Facebook Marketplace, using a warehouse on West Front Street.
Bloomington Police started investigating last Thursday, Sept. 21 when they received a tip from police in West Allis, Wisconsin about a car theft ring.
Two of the five suspects were implicated in the Wisconsin case, according to authorities.
McLean County Jail staff reports four of the five suspects are detained. They are Henry Gomez-Gomez, 41, Jesus Arriaga, 36, Geovany Alvarez, 22, and Carlos Guzman-Toledo, 48.
A judge released the fifth suspect. Anthony Gomez-Gomez, 33, has been ordered to remain in Illinois until his Oct. 13 court date.
Copyright 2023 WEEK. All rights reserved.