You Gotta Eat: Community comes together at Smokey's in Mason City
Published: Sep. 21, 2023 at 10:34 PM CDT
MASON CITY (25News Now) - For Darren Smith, Smokey's Bar and Grill isn't just the building he bought a decade ago in Mason City. What used to be a pizza place is a big part of the community.
"Community means a lot to me. I met my wife 30 years ago; in fact, I proposed marriage to her here," he said.
Darren is known for his sense of humor. He tells stories about the bar and entering the room in the weirdest parts of outrageous conversations.
"And I have come in the middle of quite a few of them and it's just shocking to say the least. And I may have been heard mumbling that I just hate this bar when it comes to those types of situations," he said.
So, the customers and staff made "I hate this bar" t-shirts. It's all in good fun.
Speaking of good, Edgar enjoyed the pork chop.
"Usually, I get my pork chop with just a little sauce or plain or a little sauce, but I love that this is loaded up with the green pepper and red peppers and onions."
Photojournalist Andrew Best got the Cajun pasta that had shrimp, chicken and sausage.
"The sausage is just the right amount of spicy, like I personally love Cajun and creole food, so this is just like me loving it."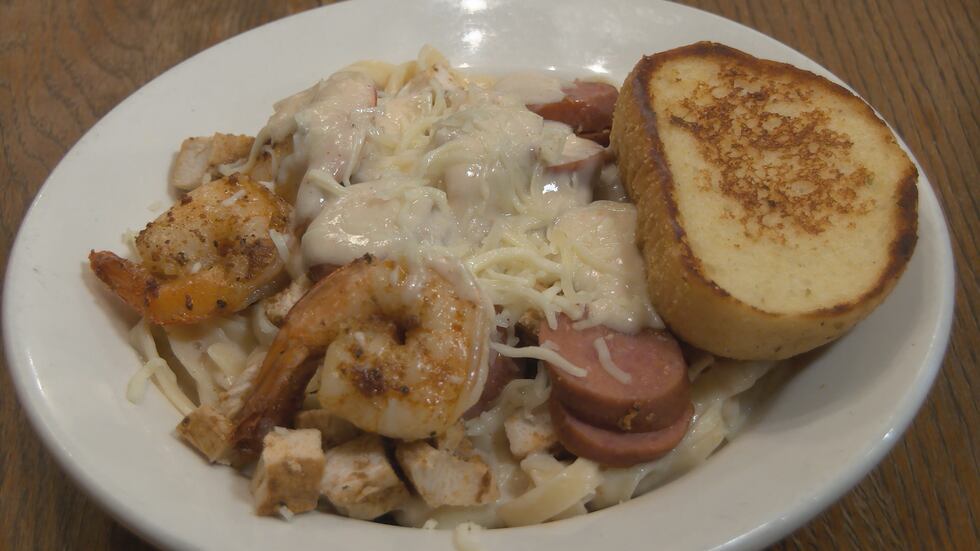 Standup comedian Chris Speyrer, who owns the Mason City Limits Comedy Club down the street, takes his nationally touring headliners to Smokey's.
"It's more than the great food and the great service, it's the owner coming out and talking to you. and just getting a taste of the small-town friendliness we have here," the comedian said.
"It's what small towns are made of, and watching the kids that came in with their parents now bringing their kids in...kinda cool," Darren said.
Smokey's Bar and Grill is located at 150 North Tonica Street in Mason City.
It's open Tuesday through Saturday; 11 a.m. to 1:30 p.m. for lunch and 5 p.m. to 8 p.m. for dinner.
You can find Edgar at the Jukebox Comedy Club and Lounge at 3527 West Farmington Road on Friday night, featuring for St. Louis comedian and Peoria native Jason Jenkins.
Next Friday, Edgar will be headlining at the Mason City Limits Comedy Club at 114 East Chestnut in Mason City.
Go to Edgar's website for tickets.
Copyright 2023 WEEK. All rights reserved.