3 months later, no leads on missing Peoria County man
The prayer vigil group met outside the last place Logan was seen, Methodist hospital, on Thursday night.
Published: Sep. 21, 2023 at 9:17 PM CDT
PEORIA (25News Now) - It's been over three months since a Brimfield man was seen on video leaving a mental health treatment center.
On Thursday night, family, friends and supporters of the 'find Logan Dunne' effort met for prayer.
Logan Dunne left Carle Health Methodist Hospital on June 2nd after receiving care for mental health. Because he's an adult, his family was not notified that he was leaving the facility.
Now three months later, the family says they have no leads on where Logan could be.
Logan also has diabetes and left the facility without proper medication and supplies.
The prayer vigil group met outside the last place Logan was seen, Methodist hospital, on Thursday night.
With no sightings of Logan since his exit, active field searches have taken a pause.
For Brian and Heather Dunne, their focus is spreading awareness of their missing son.
"We are hoping that when the leaves come off the trees, the crops go out, we can do some more private drone searches in areas that we couldn't otherwise see. It's amazing the amount of thick undergrowth and timber in Peoria County alone," said Brian Dunne.
The family has also reached out to private investigators for help, but without any recent sightings they can't offer much more to the search efforts.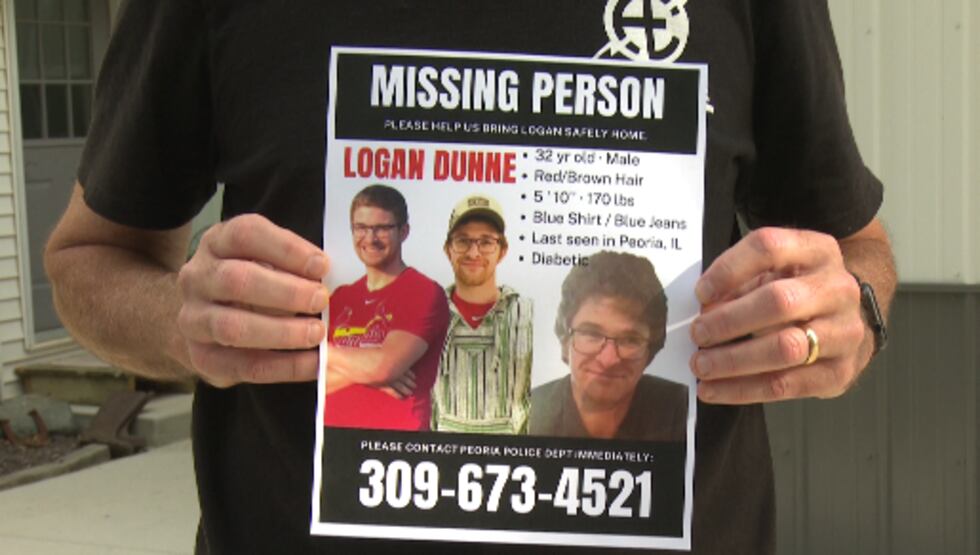 Logan Dunne has reddish-brown hair and brown eyes. He is around 5′10″ and weighs about 170 lbs. He was last seen wearing a blue t-shirt and jeans. Anyone with reported sightings is asked to call (309) 673-4521.
Before Logan Dunne's disappearance
Logan performed echocardiograms at OSF in the cardiology unit. He owns his childhood home, raises chickens, and even keeps bees. He was diagnosed with bipolar disorder some years ago, according to his parents, but managed it well with medication.
"Nobody was aware he had bipolar because he managed it so well," his mother said. "He had a great job. He was able to maintain his job and function."
Around Memorial Day, Logan started exhibiting signs of a mental crisis. It's not something that had happened before, according to his parents. Twice, crisis counselors from Carle Health visited him. On the second visit, Logan agreed to go to the hospital to get treatment.
Because of crisis counseling safety protocols, he was not able to go back inside his home to get his cell phone, wallet, or keys. Brian Dunne said he left with his insulin pump and the clothes on his back.
"We did trust them with his care," Heather said. "That first week, we'd go to bed at night with a sense of relief that he was getting the help he needed."
His family called every day, but Carle was unable to give any updates on his condition because of HIPAA. They could not confirm or deny his presence in the hospital. When Logan left Carle Hospital in Downtown Peoria around 5:30 a.m. on June 2, they weren't aware.
Copyright 2023 WEEK. All rights reserved.