Another round of spring storms hits Central Illinois
Published: Apr. 20, 2023 at 10:03 PM CDT
PEORIA (25News Now) - Another round of high-wind storms hit the Central Illinois area Thursday afternoon.
Peoria, Tazewell, Fulton, and Woodford Counties were all under tornado warnings, but no touchdowns were reported. Hail was a significant problem across the area.
Viewers reported large pieces of hail. Golf ball-sized hail was reported in Peoria, Peoria Heights, and Metamora.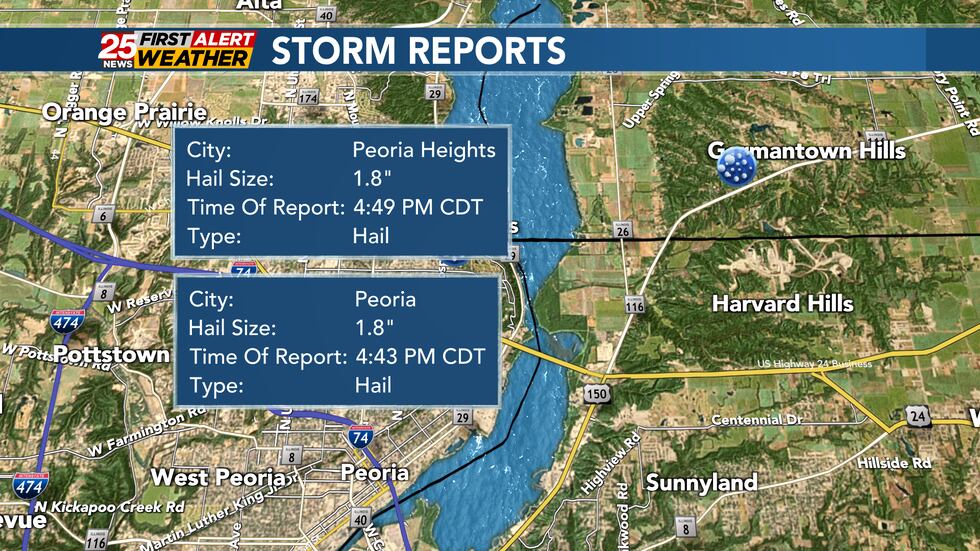 The Weather Service received nearly 20 reports of hail one inch or larger.
High winds also wreaked havoc in the area. A Pekin home was hit by a fully-grown tree Thursday afternoon.
On Thursday evening, tree removal crews were cutting down the trunk and branches and feeding them through a wood chipper. The tree seemingly split while toppling down onto the corner of a Caroline Street home. The roof is damaged, as well as a fence. The siding and porch of the house were crooked from the impact.
A neighbor watched the tree removal from his front door. He didn't see the tree come down, but he heard it and mistook the impact for a car accident.
"[A neighbor said] Can you call [the homeowner], do you have his phone number for our neighbor Joe? I was like, I don't," next-door neighbor Nathan Dilling said. "We stepped outside and looked over and the tree was just through the whole portion of the house."
The owner was not home at the time, Dilling said. A dog was inside the house, but not near the site of impact. A sign on the door marked the home as an unstable structure and people should stay away.
Copyright 2023 WEEK. All rights reserved.