Illness sidelines Springsteen tour as 3 concerts postponed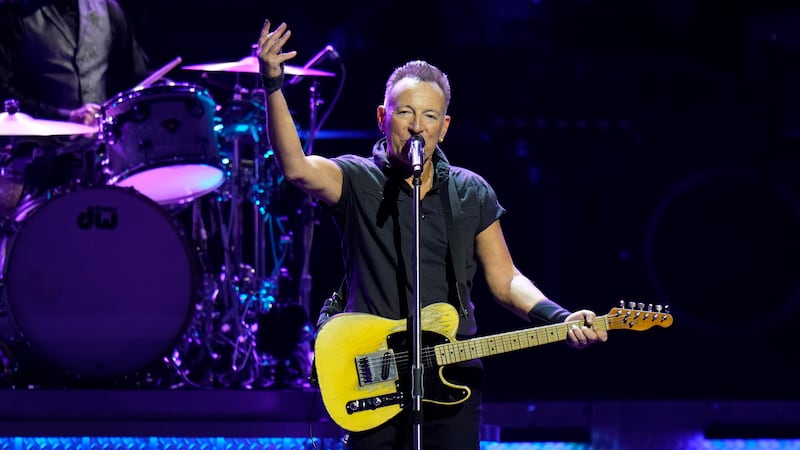 Published: Mar. 13, 2023 at 7:19 AM CDT
SOUTH AMBOY, N.J. (AP) — Bruce Springsteen's planned performance Tuesday in Albany has become the third concert in a week postponed by the New Jersey rocker, who cited illness as the reason in a tweet Sunday but did not give specifics.
The postponements come a month into Springsteen's first major tour in six years.
"The Boss," as he is known to his fans, also gave himself and his E Street Band sick days last Thursday when they were to have performed in Columbus, Ohio, and again for a scheduled concert Sunday at Mohegan Sun Arena in Uncasville, Connecticut.
Details were lacking in Springsteen's social media posts. Though the Twitter feed blamed the latest postponement on illness, it did not specify who was ill or what kind of illness was involved.
It merely said: "Due to illness, Bruce Springsteen and The E Street Band's concert at MVP Arena in Albany on Tuesday, March 14 has been postponed. We are working on rescheduling the date so please hold on to your tickets as they will be valid for the rescheduled show."
The post made no mention of a major winter storm forecast to hit Albany late Monday.
On Saturday, E Street Band member Little Steven Van Zandt posted an encouraging message about the concert postponements on Twitter, saying: "No need to be anxious or afraid. Nothing serious. Just a temporary situation. We will all be back in full force very soon."
Springsteen, 73, began the tour on Feb. 1 in Tampa, Florida, before 20,000 fans who mostly stood through the 28-song arena show that included staples like "Born to Run," "Glory Days," "Rosalita," "Promised Land" and "Backstreets."
In a story last month that began "COVID has come to E Street," the Asbury Park Press reported that E Street Band members Van Zandt and Soozie Tyrell missed a Feb. 10 show in Dallas.
The newspaper, quoting one of the show spectators, said Springsteen from the stage blamed their absences on COVID-19.
In his Twitter feed at the time, Van Zandt answered a fan who asked why he missed the show with: "Sorry folks. Covid."
He added that he had "a very mild case," crediting his vaccines and adding: "No real danger or damage." He returned to the tour soon afterward.
The setbacks come several months after Springsteen released his latest album, "Only the Strong Survive," in November.
The famed musician has sold about 140 million albums while winning 20 Grammys, an Oscar and a Tony award in a career that has spanned all or parts of six decades.
The first leg of his U.S. tour is to end with an April 14 homecoming in New Jersey before the band goes abroad starting with an April 28 show in Barcelona, Spain. Springsteen then returns for more U.S. concert dates this summer, including a performance at Wrigley Field in Chicago, and other dates into December.
Copyright 2023 The Associated Press. All rights reserved.