UPDATE: Illinois State University's first female president resigns, terms of separation deal released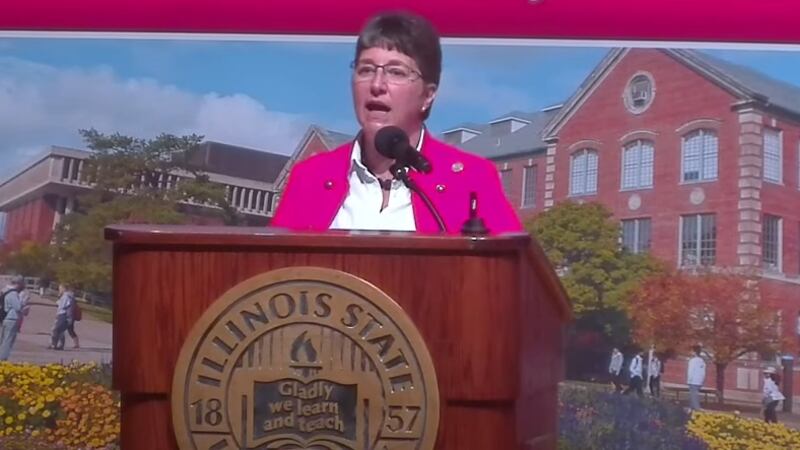 Published: Feb. 15, 2023 at 2:21 PM CST
NORMAL (25 News Now) - Dr. Terri Goss Kinzy has resigned as president of Illinois State University after less than two years on the job.
The university says the resignation was effective Tuesday.
News of Kinzy's departure was a surprise to many in the campus community. The announcement came in a Wednesday afternoon email detailing the agenda for Friday's Board of Trustees meeting.
Kinzy will be replaced on an interim basis by Vice President for Academic Affairs and Provost Aondover Tarhule. Pending trustees' approval, Tarhule will be interim president until June 30, 2024.
Information about a presidential search will be posted at a later date.
The governing board is also expected to accept her resignation at Friday's meeting in addition to a separation agreement in which Kinzy will receive 20 weeks' pay, which is about $144,000.
She'll also be compensated for unused vacation and sick days, and she can continue living at the president's house on Gregory Street and use her university-owned car for another four months, according to the agreement.
Kinzy's annual salary was $375,000.
Kinzy was appointed as the university's 20th president on May 14, 2021. She was the first woman to lead ISU.
Kinzy released a statement as part of a joint news release with the board.
"It has been an honor to serve the Illinois State University community as its 20th President," she said in a release. "I have appreciated the opportunity to engage with Illinois State students, faculty, staff, alumni, and friends. At this time, I intend to pursue other opportunities."
Kathy Bohn, currently the trustees' secretary, also issued a statement.
"On behalf of the board, we would like to thank Dr. Kinzy for her contributions during her time as President and wish her continued success in her next endeavor."
Posting on Twitter, ISU Athletic Director Kyle Brennan praised Kinzy and expressed sadness about her departure.
This is a sad day for @ISURedbirds! Dr. Kinzy was the most supportive President I've been around and she will be greatly missed by our coaches, staff and probably most of all by our student-athletes. Thank you @kinzytg for a job well done and we all wish you the best! Go Birds!

— Kyle Brennan (@KyleBrennanISU) February 15, 2023
Copyright 2023 WEEK. All rights reserved.