UPDATE: Peoria County Courthouse closed amid continued water main repairs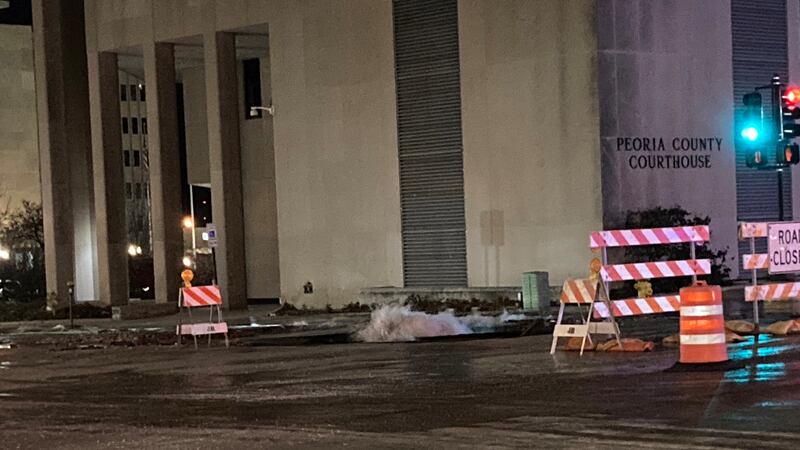 Published: Nov. 19, 2022 at 9:44 PM CST
|
Updated: Nov. 20, 2022 at 10:27 AM CST
UPDATE: This story has been updated.
UPDATE: The Peoria County Courthouse will be closed Monday as repairs continue on a broken water main in downtown Peoria.
In an official release, all court hearings scheduled for Monday will be rescheduled. The Peoria County Circuit Clerk's Office will send affected parties a notice of the rescheduled court hearing by both physical mail and email. As of now, the courthouse is scheduled to reopen Tuesday.
It comes as Illinois American Water continues to perform maintenance on the break at Northeast Jefferson and Hamilton Boulevard. Crews have attended to the scene through Saturday night into Sunday, and will remain until it is fully repaired.
The reason behind the main break is unknown, with analysis planned after the repair is finished to determine the cause.
Illinois American Water reiterates that the public avoid driving in this area until crews are clear and traffic resumes. Drivers are encouraged to go slowly proceed with caution if they need to cross through.
UPDATE 10:26 A.M. - Illinois American Water crews continue to work on repairing a water main break at the intersection of NE Jefferson and Hamilton Boulevard in Downtown Peoria.
The water main broke Saturday night and it's not known what caused the break. Drivers are being asked to avoid the area while crews continue to work on repairs. It's unclear when those repairs will be completed.
PEORIA (25 News Now) - Hamilton Boulevard is currently blocked off between Northeast Jefferson and Northeast Adams.
This is near the Peoria County Courthouse, and across from Chase Bank.
A 25 News crew on scene did notice gushing water coming from the road, and some debris on it as well.
We have reached out to both Peoria Police and Peoria Public Works to try and get more information.
Copyright 2022 WEEK. All rights reserved.