Downtown Peoria's 97-year old Labor Temple for sale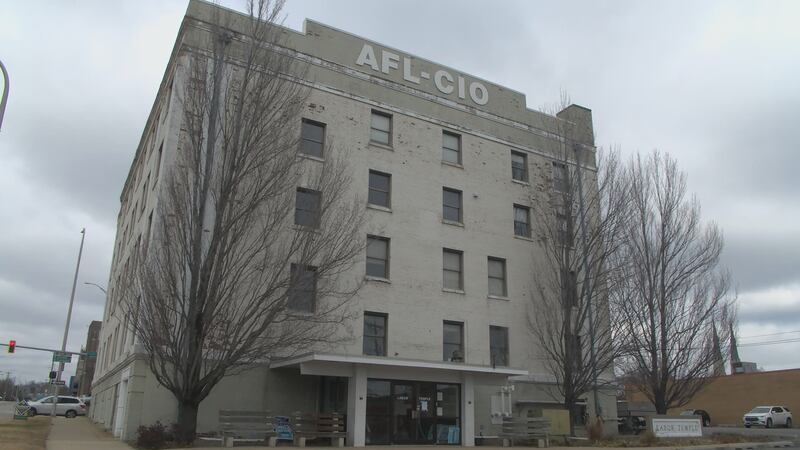 Published: Nov. 18, 2022 at 4:49 PM CST
PEORIA (25 News Now) - A nearly century-old union fixture of Downtown Peoria is now up for sale for $799,900 as of Thursday.
The union history of the building is present from top to bottom, from the large AFL-CIO letters on the roof to the very beams the building is held up by.
The Labor Temple was built in 1925 by a local carpenter's union. From there, it housed several local union groups, but as time went on those groups merged into large unions and eventually grew so big they moved to their own space.
Now, the four-story building holds about 20 tenants, including Labor Temple Association President and the Labor Paper Executive Editor Sharon Williams. She's worked in the temple since she was 21 years old. The Labor Paper is one of the remaining tenants.
"When I signed the papers to put the building up for sale it was a very sad day for me," Williams said. "It's always been kind of tough paying the bills and stuff but we've reached the point where it's time for us to find a new buyer."
The finances were the main driver behind Williams' decision. The temple is still used for labor meetings, particularly during the evenings and weekends. During weekday afternoons, Williams said there aren't many people in the building at all.
"It's just a great place for us to come together as union members and celebrate our brother and sisterhood," Williams said.
The temple is full of antique labor memorabilia, including banners and written charters from unions long past. Some items are from the late 1800′s. Williams isn't sure what she'll do with those items if the building sells to someone not interested in preserving the union aspect of the building. She's mulling over sending it to a statewide union historical group or checking with the Peoria Riverfront Museum.
Williams' best-case scenario is that a buyer will want to keep and respect the union history of the building and allow the 20 tenants to stay. If not, she said all 20 plant to move to a new facility together.
Copyright 2022 WEEK. All rights reserved.