$5M bond set in double homicide case that includes a child
WARNING: This content is not suitable for children and may be disturbing to some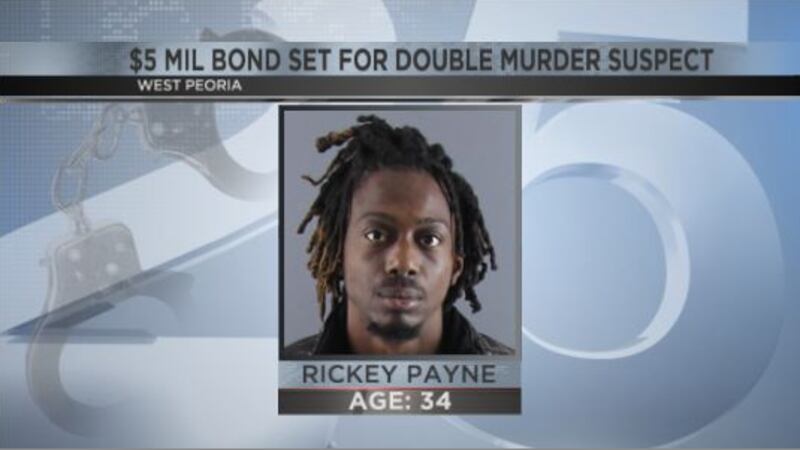 Published: Sep. 30, 2022 at 4:29 PM CDT
PEORIA (25 News Now) - The man arrested for killing his wife and 8-year-old stepson Thursday in West Peoria is being held on a $5 million bond.
Rickey Payne, 34, is charged with six counts of first-degree murder for the shooting deaths of his wife, 32 year-old Quardreka Payne, and his 8 year-old stepson, Cael Thornton at a West Peoria home.
Peoria County Circuit Judge Albert Purham said he has "never had to set bond that high before." However, Purham called the prosecution's bond request warranted, referring to the death of the boy as an "execution." Payne showed little emotion through the televised feed from the jail.
During a probable cause statement read in court Friday afternoon, Assistant State's Attorney Jason Ramos said Payne initially claimed he didn't know what happened inside the home, since he said he was out selling marijuana on the street. But later, Ramos says Payne changed up his story and gave a detailed account of what he claims happened.
When law enforcement arrived at the home on Cedar Ave. Thursday morning, a window was broken, and no one would answer the door. When investigators subsequently breached the home to conduct a welfare check, they found both Quardreka Payne and Cael Thornton dead inside the home, both shot in the face.
During subsequent interviews, Payne told investigators there was an argument between the couple, and he says a struggle ensued and the gun went off.
According to Payne's own account, a bullet struck his wife, but then she continued to come at him when he shot her again, apparently with a second gun. Authorities found a firearm, that Payne claims was his, outside by a tree. It's unclear if there was a second weapon.
Assistant State's Attorney Ramos says, according to Payne, the child tried to stop him from cleaning up, so Payne told the boy to go upstairs and "lay down in his room." Prosecutors say Payne came upstairs and shot him twice in the head, apparently because Cael was getting in the way of cleaning up.
Investigators also found two 15-month-old twins at the home, safe inside a 'Pack 'N Play.'
Payne's next court appearance is October 27, 2022.
There is a GoFund Me to raise money for burial expenses and to help raise Quardreka's twins that have been left behind.
Copyright 2022 WEEK. All rights reserved.