First woman named to serve as McLean County State's Attorney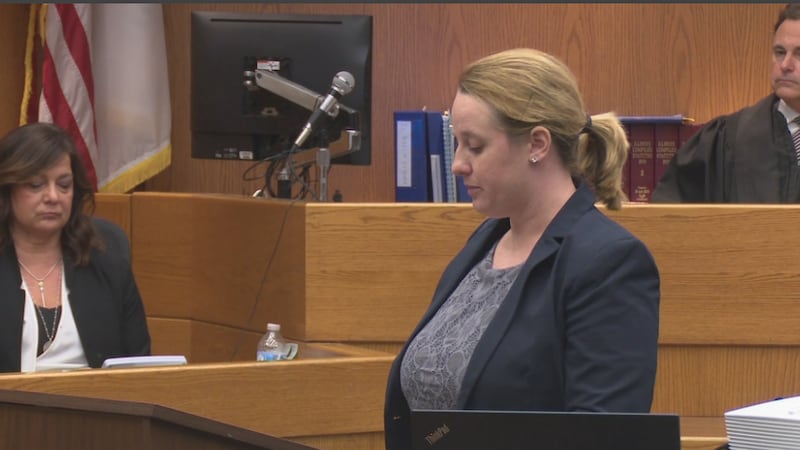 Published: Sep. 15, 2022 at 7:13 PM CDT
BLOOMINGTON (25 News Now) - A local lawyer made history Thursday evening when she was selected to become the first woman to hold the office of McLean County State's Attorney.
Erika Reynolds has been an assistant McLean County prosecutor since 2015, and has led the office's Crimes Against Children division in which she's handled some of the county's highest profile criminal cases.
Reynolds will serve the remaining two years of Don Knapp's term. Knapp resigned effective Friday to become a circuit judge.
Reynolds was County Board Chairman John McIntyre's choice among three applicants, and the board confirmed the appointment on a voice vote.
McIntyre praised all three candidates, but said Reynolds "stood out for the overwhelming amount of positive responses and confidence from former associates in the field of law enforcement, judicial and prosecution.
Reynolds released a statement after her appointment.
"I am humbled by the vote of confidence and look forward to working with the McLean County Board. I am so happy to have the chance to serve the citizens of McLean County in this new capacity," Reynolds said.
In her application, Reynolds said noted one of most important duties is to prepare for the state's new Pretrial Fairness Act, which includes elimination of cash bail and takes effect in January.
It will "impact every aspect of the state's attorney's office," said Reynolds.
"This sweeping legislation overhauls the criminal justice system from pre-arrest and policing to pretrial logistics to sentencing and corrections options in an unprecedented way. It will require the leader of the office to be creative in addressing staffing shortages and the increased workload," she added.
Reynolds' resume includes the successful prosecution of Cynthia Baker, who was sentenced to life in prison for killing her boyfriend's 8-year old daughter Rica Rountree in the Twin Cities More recently, she prosecuted former McLean County piano teacher Aaron Parlier, who was also given life in prison for sexually molesting his students.
Reynolds is a Republican who also worked as an assistant state's attorney in Woodford and Lee Counties.
Copyright 2022 WEEK. All rights reserved.