UPDATE: Normal Police say suspect in hotel standoff had a BB gun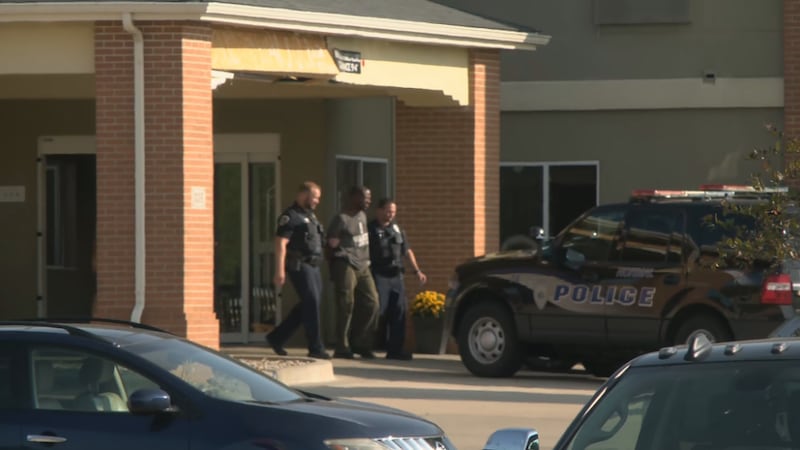 Published: Sep. 14, 2022 at 3:35 PM CDT
|
Updated: Sep. 14, 2022 at 4:38 PM CDT
UPDATE (9:05 p.m.) - Normal Police say the rifle pointed out of a hotel window toward a busy parking lot Wednesday afternoon may have been a BB gun.
In a news release, Normal Police Chief Steve Petrilli said officers were called about 2:20 p.m. to Comfort Suites on Greenbriar Drive after someone was seen pointing a rifle out a hotel window towards the Walmart parking lot on the northeast part of town.
Police said in a statement they could see through partially opened curtains an unknown person in the room and "what appeared to be some type of long gun propped up against the wall."
Officers saw the man close the curtains, and the hotel was evacuated.
The suspect, Michael A. Sumpter, voluntarily left the room and was arrested without incident, according to police.
Officers said they found a BB gun in the room.
Sumpter, who is 37, faces a disorderly conduct charge. He was taken to the McLean County Jail.
UPDATE: 4:35 P.M. - A man has been arrested in connection with this incident.
Normal Police Chief Steve Petrilli says the situation is now resolved.
Police say they are investigating.
NORMAL (25 News Now) - Normal Police are at the Comfort Suites in Normal after reports of a rifle pointing out a window of the hotel.
Normal Police Chief Steve Petrilli confirms to 25 News that officers arrived on scene and saw what they believe to be a rifle being pointed out a window of the hotel.
As police evacuated rooms and people in the hotel, Petrilli says the rifle was seen returning back into the room and the window was closed.
Police are trying to make contact with someone inside.
Copyright 2022 WEEK. All rights reserved.