UPDATE: Peoria fire engine involved in crash en route to 3-vehicle collision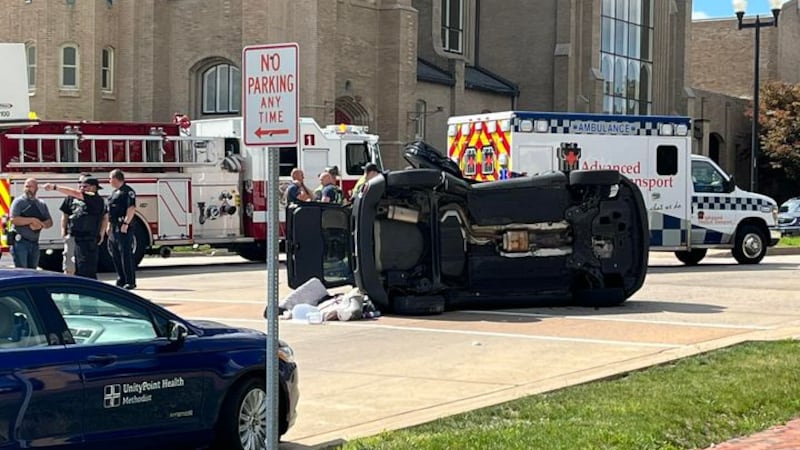 Published: Aug. 23, 2022 at 4:00 PM CDT
UPDATE (8:50 p.m.) - The Peoria Fire Department said Tuesday night one of its fire engines was damaged in a crash that happened as first responders headed to another crash a couple of blocks away.
The fire department was called about 2:40 p.m. Wednesday to a three-vehicle collision on NE Randolph and Hamilton Boulevard in which one of the cars rolled on its side.
A fire engine on its way to the crash scene was hit by another vehicle at Columbia Terrace and North Street, fire officials said.
The fire department said four of the seven people injured in the initial collision were taken to a local hospital. They were expected to be treated and released. Three others declined hospital treatment, according to the fire department.
No one was hurt in the second crash, including the three firefighters. Police ticketed the other driver. A battalion chief said the fire engine had damage to the rear axle and bumper, but the engine will be repaired.
PEORIA (25 News Now) - Peoria Police say at least three or four people were taken to the hospital in two separate car crashes Tuesday afternoon.
Our crew on scene saw a car rolled over on its side at Randolph Street near UnityPoint Hospital, while another car was later spotted crashed on North Street. An officer on scene told our crew that the two crashes were not related.
The injuries are not considered to be serious.
This story will be updated
Copyright 2022 WEEK. All rights reserved.