Rossi charged with mail fraud in new federal indictment
Published: Jul. 8, 2022 at 7:02 PM CDT
PEORIA (25 News Now) - A new federal filing charges sidelined Reditus CEO Aaron Rossi with six counts of mail fraud.
The new charges, filed as a Superseding Indictment June 6 in the US District Court for the Central District of Illinois, lay out an alleged scheme Rossi carried out from 2014 through 2018 to defraud the company he worked for, Central Illinois Orthopedic Surgery in Bloomington, and others of more than $1 million.
Some of these allegations have already appeared in documents pertaining to Rossi's previous complaint with state professional regulators.
"It was part of the scheme that Rossi portrayed himself as a physician and allowed others to falsely believe that he was a physician licensed to practice medicine," the indictment reads. "In truth and fact, as he well knew, Rossi was not licensed to practice medicine in the State of Illinois and had been directed by State of Illinois Department of Professional Regulation to cease and desist from making that false representation."
In the six counts, prosecutors list out six times Rossi allegedly used the company's money to buy items for himself through Amazon in 2017, including a 49-inch TV, a vacuum and a Nike training shirt.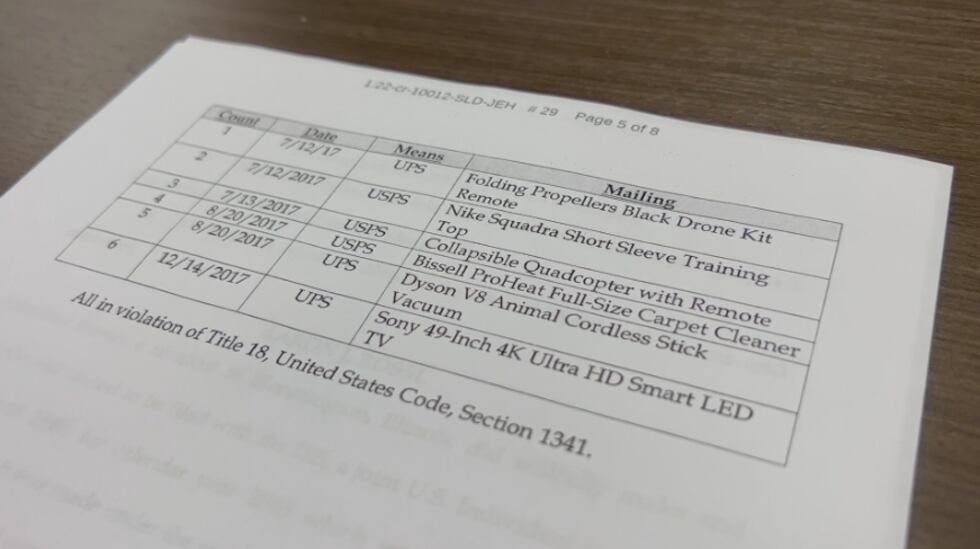 Sources close to Rossi tell us those accusations in particular are a "ridiculous overreach."
"I would like to comment on the ridiculous overreach and abuse of power of the Prosecutors using the full weight and resources of the Federal Government to charge an individual with a federal crime for buying a t-shirt," the source said. "I feel that it is becoming apparent that the Prosecutors are simply throwing things at the wall to see what will stick."
Local attorney Jon Giraudo is not affiliated with this case, but is a former Tazewell County prosecutor. Based on his experience, Giraudo says the recent indictment may be a part of a larger strategy by prosecutors.
"The t-shirts and the TV's... That may not be huge or big, but may be a lot easier to prove," Giraudo said. "After they've got them on these charges, they've got time. They've got time to build the case."
The new Superseding Indictment also incorporates Rossi's three-count tax fraud indictment from March. In April, Rossi entered a not-guilty plea to those charges, that accuse him of knowingly filing false tax returns over three years, in 2015, 2016 and 2017. Reached for comment Friday, Rossi's spokesperson responded by calling the accusations "minor" and not worthy of public resources.
"We are very disappointed the government chose to expend public resources to intervene in a private dispute between former business partners based on claims about minor e-commerce purchases from 5 years ago," spokesperson Natalie Bauer Luce said. "Aaron is proud of his record of building a successful business and creating hundreds of jobs for his community. We look forward to an aggressive defense in court to dispel these claims. Aaron is tremendously grateful for the love and support of his family, friends and community during this challenging time."
Rossi is also facing a civil lawsuit brought by business partners, which resulted in the appointing of a receiver in Rossi's place. In 2020, Reditus received more than $220 million in Illinois state COVID testing contracts.
The full indictment appears below.
Copyright 2022 WEEK. All rights reserved.