Newly unionized Starbucks employees hit picket line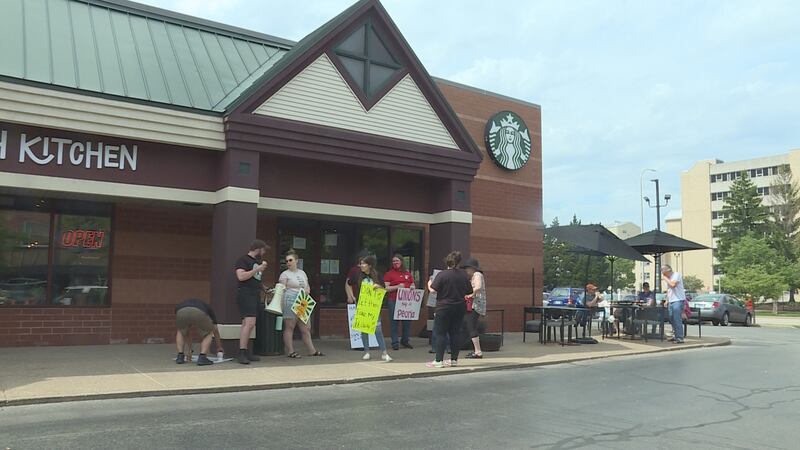 Published: May. 14, 2022 at 8:20 PM CDT
PEORIA (25 News) - Starbucks workers at Peoria's Campustown location are back on the picket line, fighting for the rights of a fellow employee at risk of losing her job.
Workers held a half-day unfair labor practice strike around noon Saturday, also known as a ULP strike. Similar demonstrations were happening across the country at other Starbucks locations, calling out their franchise management teams for what employees are calling unfair measures and practices.
At Campustown, one employee transfers between stores due to being in school. But now that she's moving, she isn't getting enough shifts, while employees say the store is hiring other workers to fill the gaps. That puts her at risk of losing her job if she isn't assigned a shift within 30 days.
For her coworkers, the strike is a way to show they're willing to put their new bargaining rights to work.
"Starbucks is breaking the law," says fellow employee Jon Gill. "Starbucks is retaliating against us, and if we do not organize ourselves to fight back, then we are showing Starbucks that we are allowing them to break the law."
The Campustown location is the second one in Illinois to unionize, approving a vote April 26. Employees at the store on Pioneer Parkway are also in the process of getting union recognition.
"When we build a union, and we build it to have power in that workplace, that's only going to happen when we actually stand up," adds Gill.
We reached out to the store's managers, who declined to comment on Saturday's demonstration or the policies in place for employees.
Copyright 2022 25 News. All rights reserved.