3-month-old infant death not SIDS after mother is accused of killing a second child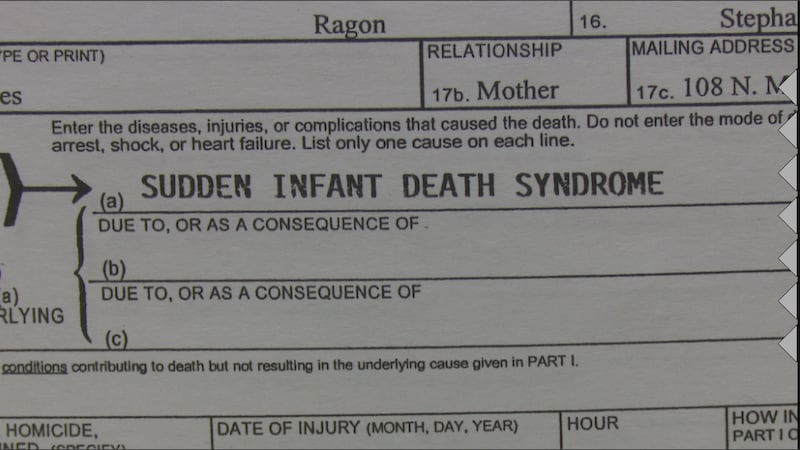 Published: May. 10, 2022 at 12:23 PM CDT
PEORIA (WEEK) - The half-brother of Navin Jones, did not die of SIDS according to the review team reexamining the 2007 death of three-month-old Nigel Ragon.
The team including Peoria County Coroner Jamie Harwood, Illinois State Police Crime Scene Investigators, and officials from Woodford County reviewed police reports from Washburn Police Department, parent interviews and a report from a Peoria County Deputy that included a toxicology report and ambulance records.
The conclusion of that review is they don't know how the baby died but it was not SIDS - Sudden Infant Death Syndrome.
The father, Justin Ragon, has agreed to do a doll reenactment while being asked questions like, "how did you find the child?" and "How was the infant placed?"
The team does know for certain the baby died of asphyxiation. But, there was no evidence of physical abuse or trauma so there most likely won't move forward with exhuming the body.
The review team will work next to determine how the asphyxiation happened. That determination is expected in the next 7-10 days.
The Peoria County Coroner says the baby's father is eager to have a final resolution for his son's death.
The case of 3-month-old Nigel Ragon began receiving renewed attention after Ragon's mother, Stephanie Jones, was charged with multiple counts of first-degree murder in connection with the death of her 8-year-old son Navin Jones.
Harwood says he never imagined returning to a case 15 years later, but the extreme circumstances leading to Navin Jones's death, subsequent information surrounding the mother, and recent changes in thinking about Sudden Infant Death Syndrome combined to make it necessary.
Copyright 2022 WEEK. All rights reserved.