Making the grade: Peoria 7th grade girls honored for math skills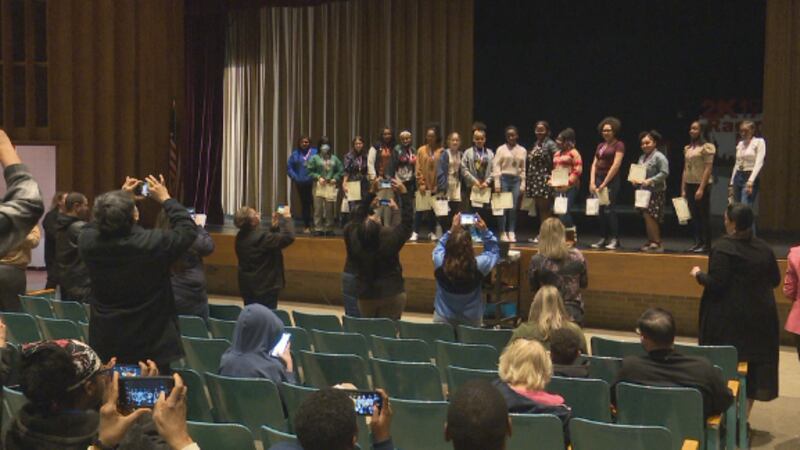 Published: Apr. 20, 2022 at 9:51 PM CDT
PEORIA (WEEK) - 24 Peoria middle school girls are one step closer to potentially pursuing a future in math.
Wednesday evening, two 7th graders from each Peoria Public Schools middle school were awarded for excellence in mathematics. They were surrounded by family while given a medal and certificate from their teachers and school administration.
The 'Deirdre Purcell Collins' math award honors Deirdre Purcell Collins who died of cancer in 2006 and was passionate about supporting young women with strong math skills.
"It was important to be encouraging and support and to tell girls that they should go into the math and science field," said Cindy Morris, president of the PPS Foundation.
"Being here is cool because there's like other people from other schools," said Lili Jones, a 7th grader honored from Washington Gifted Middle School.
The following students were honored at each middle school:
Calvin Coolidge Middle School: Aliyah Aguster & Mitrease Chappell

Glen Oak Learning Center: Oliviya Brown & Jasmine Farish

Harrison Community Learning Center: Ziaja Phillips & Joanna Sebastian Juan

Lincoln K-8 School: Anaya Pallares Crawford & Amari Williams

Lindbergh Middle School: Kyrie Bright & Linda Han

Mark Bills Middle School: Alyssa Anderson & Stacy Lee

Rolling Acres Middle School: Kaylen Leary & Taylor Stokes Johnson

Roosevelt Magnet School: Natalee Mattern & Robrianna Thompson

Sterling Middle School: Marley Clark & Jaliyah Williams

Trewyn K-8 School: Kynaiya Crawford & Quanijah Hall Crawford

Von Steuben Middle School: Layana Harris & Gakarias Jenkins

Washington Gifted Middle School: Lilianna Jones & Skye Woo
These girls are also eligible to apply for a scholarship to potentially attend ICC's 'College for Kids' program at no cost this summer.
Copyright 2022 WEEK. All rights reserved.