Sen. Durbin announces federal dollars for Bradley nursing simulation lab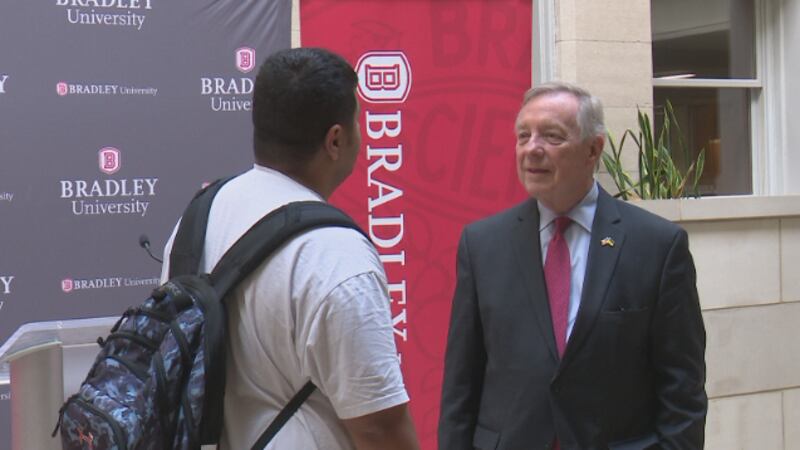 Published: Apr. 19, 2022 at 11:53 PM CDT
PEORIA (WEEK) - U.S. Senator Dick Durbin (D-IL) visited Bradley University on Tuesday to announce $850,000 in federal funding to train nurses amid a growing shortage of nurses in the state.
The money is being spent on a High-Fidelity Multi-Patient Simulation Lab, which Durbin says will help train this region's future nurses.
"Hospitals have struggled with hiring and retaining nurses – many of whom are burned-out from working long hours, struggling with being short-staffed, or simply exhausted from the pandemic," said Durbin in a prepared statement.
"I am particularly excited by the fact that Bradley University will further use this funding to partner with local high schools to attract our younger students to the nursing profession," Durbin also said.
About 50 to 75 Peoria and Manual High School students will get to use the simulation lab each year.
The lab has high-quality manikins to help students learn how to react under some stress when it's not quite a life-or-death situation," said Jessica Clark, Bradley's Dean of the College of Education and Health Sciences.
"Bradley is committed to early learning workforce development," Clark told 25 News.
"It is imperative that we spark interest and inquiry regarding healthcare career options as early as possible," she added.
Durbin's news release cited state data signaling the growing nursing shortage in the state. It says 52% of Illinois nurses are older than 55, and 27% of the state's nurses plan to retire within five years.
Copyright 2022 WEEK. All rights reserved.