Road reopened after chemical spill shuts down Adams St. in area of Peoria's southside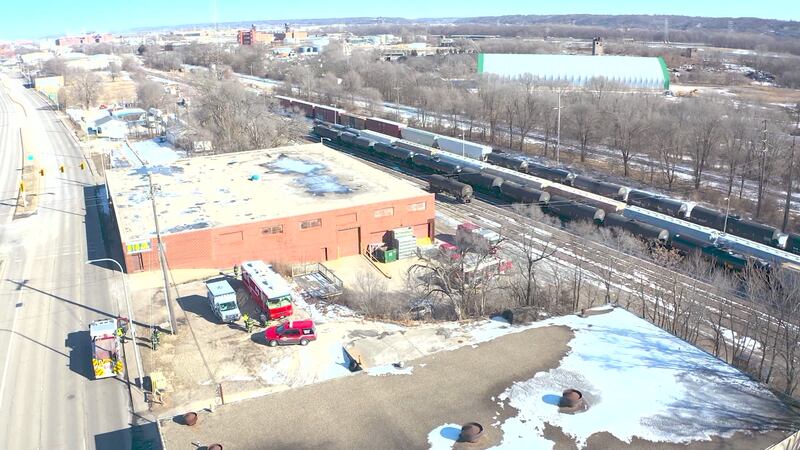 Published: Jan. 25, 2022 at 12:42 PM CST
|
Updated: Jan. 25, 2022 at 3:21 PM CST
UPDATE 5:43 P.M. - The Peoria Fire Department says the leak was caused by a loose valve on a rail car.
Firefighters responded at around 12:09 p.m. to the area for a railcar leaking methyl chloride -- a highly explosive and flammable gas, in vapor form, according to a fire department release.
The Peoria Fire Department Hazmat Team responded to the scene and it was determined a two-block radius of the railcar needed to be evacuated.
An ambulance was stationed on scene to provide medical if needed and a CityLink bus was called to the scene due to the extreme temperatures and extended time on scene.
There ar eno injuries to report.
21 firefighters were on scene.
UPDATE 3:15 P.M. - The road has been reopened, according to the Peoria Emergency Communications Center.
UPDATE 2:00 P.M. - A release from Peoria Police says rail traffic has been shutdown.
Police also ask drivers to avoid the area while crews work to clean up the scene. Businesses near the trackers where the leak occurred are being asked to evacuate while cleanup is underway.
Evacuations of the immediate area and containment were initiated based on the Emergency Response Guidance from the United States Department of Transportation.
At this time, no information is being released regarding the material that leaked. Currently there is minimal danger to the public.
The cause is under investigation.
UPDATE 12:54 P.M. - Businesses near the tracks are now being asked to evacuate, according to police spokesperson Semone Roth, allowing for quicker cleanup.
CJ Signs is currently closed, according to a post on Facebook.
PEORIA (25 NEWS) - A chemical spill has shut down a portion of Adams Street between Oregon and Griswold.
An email from the Peoria Emergency Communications Center says this is a precautionary measure due to a chemical spill on the rails.
Peoria Police spokesperson Semone Roth says no one is in immediate danger and there has been no evacuations in the area.
This story will be updated.
Copyright 2022 WEEK. All rights reserved.