Teachers union, PPS leaders meet to discuss district's COVID plan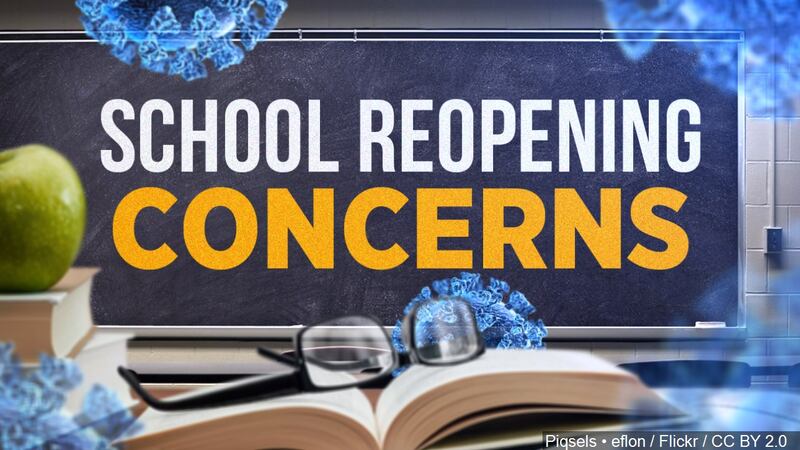 Published: Jan. 7, 2022 at 8:27 PM CST
PEORIA (25 NEWS) - The head of the Peoria teachers union reports progress was made after meeting with administrators about the school district's COVID plan.
Students return to class Monday, January 10 after the district extended winter break for a week because of the spike in COVID-19 cases.
The union requested the meeting, claiming teachers did not have enough input into the district's plans.
The president of the Peoria Federation of Teachers, Jeff Adkins-Dutro, did not say much about what was talked about during Friday's meeting, but he said the session was productive.
"We have building reps in every building that are going over the buildings' individual COVID plans with principals," Adkins-Dutro said.
"I think we will know in a couple of days if it's going to work or not," the union leader also said.
PPS Superintendent Dr. Sharon Desmoulin-Kherat said there was "general agreement" between the administration and union.
She released the following statement:
"The Peoria Public Schools administration and Peoria Federation of Teachers met early Friday morning on the plan for returning to school on Jan. 10. The parties were in general agreement about the components of the plan, which is designed to allow Peoria schools to re-open in a way that will reduce transmission of COVID-19 as best as possible."
PPS also released a statement to family and staff:
"ISBE (Illinois State Board of Education) has signaled to district superintendents that it plans to adopt the CDC's updated isolation and quarantine recommendation of five days."
PPS also provided the following tips before classes start Monday:
Parents and guardians – If your student is exhibiting symptoms, please do not send him/her to school and instead get a COVID-19 test. Free COVID-19 testing is readily available in our community, including at the Peoria Civic Center, which is open Monday through Saturday.

Please talk with your students about the importance of proper mask-wearing in order to keep our students and staff healthy.

The COVID-19 vaccine is one of the best tools to prevent community spread so the virus does not get into the classrooms. Please consider getting vaccinated and or a booster shot. The Peoria County Health Department will be open for walk-in appointments from 9 a.m. to 5 p.m. this Saturday and Sunday.
The district went on to say custodial staff has cleaned all classrooms and hallways this week, and next week will be "addressing all high-traffic and high-touch areas throughout the day."
"
Copyright 2022 WEEK. All rights reserved.