SPECIAL REPORT: COVID-19 adding to tensions police face on the street
November 18, 2020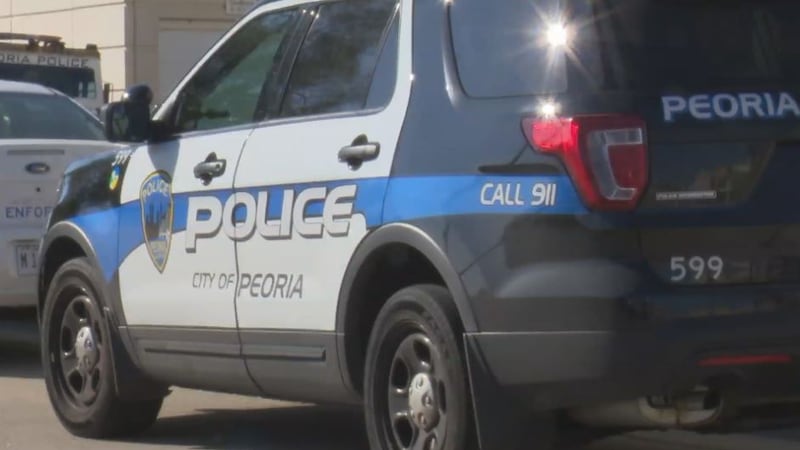 Published: Oct. 27, 2021 at 4:07 PM CDT
PEORIA (25 NEWS) - Peoria police officers with years of on-the-street experience notice a difference in the changing of the times, especially in the way they're viewed now by young people.
Two experienced local men, each with more than 12 years on the job with the Peoria Police Department, speak of added anxiety among the people they've sworn to serve and protect.
"I love the energy that people have right now as far as wanting to see change in America," said Sgt. Sherrell Stinson, just days before the presidential election. "That energy is beautiful. Even what we already see right now, people going to the polls."
He noticed the big changes in late May when George Floyd died while in custody of Minneapolis police.
Much of the country was quickly caught up in protests, demonstrations and even looting.
Recently, near Bradley University, Stinson would help respond to an arrest that he wishes had been as widely covered.
It was a young man walking the street with a gun in his waistband.
"We rolled up on him. He was a black man. We were able to prone him out. He listened to our instructions, we were able to cuff him and take the gun out and he went to jail. But people don't hear those stories. They don't hear that, 'Wow. Law enforcement didn't shoot a black person?" Stinson said.
Here in Peoria, he felt the criticism and mounting pressure.
"My grandfather actually told me, 'Treat everyone like you want someone to treat your grandmother until they no longer deserve it.' And that's something that I still live by to this day," Stinson said. "And so, when we literally put our all into the job and then people treat us a certain way, based off of something that happened hundreds of miles away or hours away that had, literally, nothing to do with us, it feels like a kick in the teeth at times."
Since those first moments of anger, calls to defund police have rung out.
"It used to be that you get that call and your antennas go up and you know that you have to on your 'A' game to make sure this gets handled correctly. Now you can simply be sitting at a red light and just because of that squad car or that uniform you're wearing, you could be targeted," said Stinson.
But to the man who is also the department's CrimeStoppers coordinator, those calls to defund imply that they could afford to lose investigators that often have backlogged caseloads.
"So for us, it's a time where you can go out here and do your job perfectly fine and still end up, somehow, no longer having your job. Or your home could be at risk for being sued, or something like that. So, it's just a different type of edge. But, no matter what, these men and women come in everyday ready to serve and protect. And, we're not going to be perfect. So, I think, when people say we need police reform, police need more training, we'd actually love more training. All of my officers put in for training all the time and, because of money, a lot of the training sometimes, gets denied."
Stinson grew up in Peoria, living in Harrison Homes and worked first as an officer in Bartonville.
His family has a long, proud tradition of service which includes his cousin, former Peoria police Chief John Stinson.
It appears he's worked in every major unit within that department: Neighborhood services overseeing the residential police unit, neighborhod watch, the SWAT team, a juvenile crimes detective and the computer crime team.
He also has 13 years with the military police.
Yet, Stinson is sometimes surprised that former friends have shunned him, since he joined law enforcement.
"It's a strange transition because, it's like, I did this job because I saw the drug deals, I saw one of my friends get murdered growing up, and I was like, 'I want to make a difference'. And then, as soon as I do this job I'm no longer welcome in certain areas," he said. "And for me, the disappointing part is it's been by people that look like me, more than not. I would say 90% of the time I've been called a bad name it's been by other minorities."
Bringing in new hires
Another issue that is more evident now is the problem of attracting new officers, especially those from diverse backgrounds.
Stinson says around the time he joined Peoria in 2008, there were some 250 officers. Now, in 2020 he says "we're struggling" to stay at 200, due to layoffs or retirements.
But, he has also been an outspoken critic of community efforts to adjust the academy entrance requirements, such as the polygraph, running or strength tests.
"He said, 'It's a barrier for minorities'. And, what I hear is, you're saying minorities are unathletic and don't tell the truth. That's just what I hear. How is a polygraph test and a physical test a barrier for anybody unless you are unathletic and you don't tell the truth?" Stinson said.
Sgt. Stinson says, if you take COVID-19 out of the equation you would have a different, less agitated America in 2020.
What makes a good day
Officer Morris Franklin agrees.
"Kids are different now, you know?" Franklin said. "I mean, the kids, I don't know if it's what's going on, what they're seeing on social media or whatever. But it's just total disrespect... There's no respect."
He advises his own children -- one who is nearly ready to drive -- to comply with police, then complain if something wasn't done correctly.
Franklin has been on the force in Peoria for 15 years.
He went to Woodruff High School and spent one year as a school resource officer at Peoria High School.
If you detect any accent, he'll tell you he was born in Greenville, Mississippi.
The last four years have been especially eventful on the Targeted Offender Unit.
But throughout all of it, and especially this year, the specter of racism has been a prominent issue.
"Myself and a white officer show up to a call and the lady tells me that I can't come in her house because her dog doesn't like black people. And it's like, really?" Franklin said.
"And then on the flip side, people that look like me... it's 'I'm a sellout because of what I do now.' I'm from this area. This is what... I'm here to help."
When he responds to a violent scene, he expects to be criticized.
"It's instantly, it's 'You allowed this.' Well, how did I allow it? And that hurts when they turn, and automatically say that 'One bad cop is all bad cops.' You can't lump me into what somebody in California did."
He was asked what would constitute a "good day."
"I think, for a lot of cops, it's somebody actually saying, 'Thank you for what you're doing. We appreciate it.'"
Follow up question: When was the last time you had a good day?
"Whew," Franklin said. "It's been a while."
He does have his outlets, though.
His kids tell him they're proud of what he does. His son, almost old enough to drive, is considering a career in law enforcement.
And, there's an old car club where he can also be creative.
During a ride along, officer Franklin stopped near Bradley University to encourage a well known homeless man to get out of the street.
He also stopped by Harrison Homes and just happened on some ladies who recognized him.
They spoke of family duties and the future.
When he got back in the car, Franklin was asked if that encounter would qualify as a good day.
"That does. When you can get out of the car and people talk to you and they continue to talk to you and don't make excuses to not talk to you," said Franklin.
Both men mentioned how important citizen complaints are to their superiors.
They further stressed that the command staff puts an emphasis on mental health care, as well as services that officers can take advantage of.
Copyright 2021 WEEK. All rights reserved.