Glioblastoma: The Silent Killer
November 6, 2019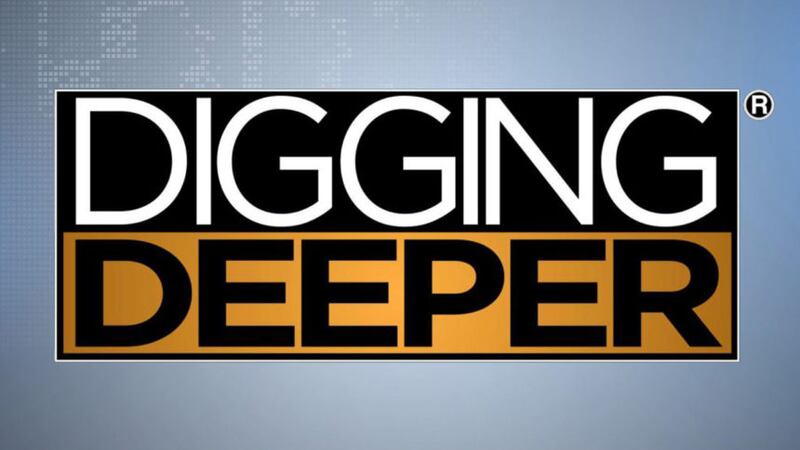 Published: Oct. 27, 2021 at 12:50 PM CDT
PEORIA (25 NEWS) - Defying the odds, a central Illinois school community has a second teacher battling brain cancer, a disease that quietly touches and takes lives with disturbing regularity.
The school is Washington Community High School in Tazewell County.
It's the same place where basketball coach Kevin Brown helped instruct young men before he passed away in June.
"You know, it's funny. I think it comes up more frequently than you might think. Especially as you get closer to the beginning of basketball season," Superintendent Kyle Freeman said.
Brown had glioblastoma, also known as GBM, a rare and deadly brain cancer that should impact three out of every 100,000 people, according to multiple federal data sources including the National Cancer Institute.
But now, another teacher an the WCHS campus of 1,600 people also has that dangerous head tumor.
Freeman says he's already gone through water and air quality tests conducted in his building two years ago, as well as required, annual asbestos readings.
"We studied our water a couple of years ago just to make sure that it wasn't heavy with lead or anything or any other chemicals and we did a full testing. Everything came out clean," Freeman said. "And that made me feel better about our current environment. But then you wonder, is there something outside of school? Something more regional?"
The other teacher — who has asked to remain anonymous — continues to battle on.
"It's a hard hit and anytime one of our family members is stricken with something this difficult, it's tough. But even more so when you're talking about …two," Freeman said.
Dr. Andrew Tsung, as he was with Kevin Brown, is the brain surgeon working to keep that patient alive.
Why two adults could get such a rare cancer in the same workplace is a question he knows he will have to answer.
"I think it's a worthy topic to investigate, but I can't really say that, 'Yes, there's a higher prevalence here versus other locations,'" Tsung said.
However, it doesn't end there.
Not even 10 miles down the Washington Blacktop in Woodford County, there was a third case.
A manager at the IGA in Metamora, Rob Bryant, also had a glioblastoma.
He was diagnosed March 5 an had surgery performed by Dr. Tsung, but died at the age of 57 on October 13.
Dr. Tsung has been forced to adjust his thinking as a doctor who knows only a fraction of his GBM patients will survive two years after diagnosis.
"How come drugs work, how come immuno therapy works in the beginning and then it fails later? How come it only works for three months? What's changing? What's mutating?" Tsung said. "So, it's a little like playing the lotto. And you get really excited when we get good results. And then you're three months down the line and then it fails. And so you have to be driven to continue that. You may find it at some point, or you may never. But the goal is to keep trying."
He and his research partner in Peoria's Brain Tumor Lab are constantly searching for answers.
Seven-day work weeks are common for Dr. Kiran Velpula and Dr. Tsung.
The University of Illinois College of Medicine at Peoria houses the lab and Dr. Velpula's team of researchers.
And OSF Healthcare's Illinois Neurological Institute offers Dr. Tsung the opportunity to work together on glioblastoma cancer stem cells, in bright green clusters under the microscope.
They're working now to treat those key cells with a metabolic inhibitor Dr. Velpula designed.
And he was able to demonstrate for us that those cancer cells were starved, killed off in his experiment, unable to grow and multiply.
It is proof of — at least — some progress for the future.
But for patients like Earl Boitnott, the future is limited.
Just 45 years old, he is hoping for a few more months.
"I could tell my talk and thinking was ….not…right," Boitnott said.
Today Earl's life in Hudson is forever changed.
Diagnosed with a glioblastoma October 2, he had surgery with Dr. Charles Rosen in Bloomington two days later.
Recurring headaches were the first sign, added to a metallic taste in his mouth.
"I kept trying to talk him into going to the ER and he said, 'I don't want to go. We can't afford it.' I said, I don't care!" wife Gina Boitnott said.
"I was just going to let it go. And let the Good Lord take me," Earl said.
He once enjoyed powdercoating cups and other utensils for about a year.
But now he can't remember how to do it.
He does, though, have an active support team.
Colleagues from his job at Bloomington's Public Works department and the town of Normal showed up at his home as we were talking last month.
They're working together to finish the home restoration projects Earl started four years ago.
"They said, 'No, that's what you want. We're going to do it!' That's how them guys are, man. They've done too much," Boitnott said.
His wife tells us that doctors at the Central Illinois Neuro Health Sciences building in Bloomington believe Earl may have another year to live.
He hopes to meet his new grandson, expected to arrive in December.
But the science shows — even after surgery — that glioblastoma will come back.
The recurrence rate for GBM is 100 percent.
"I'll be OK. I'm just wanting everybody else to be OK. Just when you've got a bad day, just think, and smile 'cause you're always going to have them bad days. But you can get past 'em," Boitnott said, smiling.
The state health department numbers we collected do point to more glioblastoma fatalities in Peoria, which includes Bloomington, than the other six regions of the state.
But even IDPH staffers says the difference is slim, not significant.
Dr. Tsung can do the math at a moment's notice, demonstrating why he believes that the stats that are available on GBM aren't reliable.
"We're bad statisticians even though we should be, probably, the best at it," Tsung said. "Everything should be considered. The minute you say that can't be true, without data to back that up, you're being naive to the situation."
But because the number of patients is so low, just two additional or fewer cases can quickly skew the statistics.
Dr. Tsung added that the current method of filling out a death certificate may also contribute to the unreliability of the data.
The certificates that he sees, he explains, are filled out by hand.
If a GBM patient dies in a car accident, while having a stroke, brought on by GBM, what will the doctor or coroner write as the cause of death?
So, does that make the numbers lower or higher than we currently see?
It's another of the GBM questions that can't be answered today.
One of the only stats Dr. Tsung is sure about is that he does 38 percent more glioblastoma procedures now than he did five to 10 years ago.
Part of that is a growing reputation that brings patients to him from as far away as Florida.
But at this point, there is no known cause and no cure for GBM.
"It's a very dynamic process in that we don't know the answer until the end. And so, it's very unsatisfying because, as people, we want to know," Tsung said.
The American Brain Tumor Association is located in Chicago.
In early October, the group announced investments of $1.1 million in 18 brain tumor research projects nationwide, including Northwestern University in Evanston.
Two local groups conduct fund raisers to continue the research Dr. Velpula and Tsung are doing in Peoria.
Jodi Brown has helped to create the KB Strong Foundation, even raising more than $6,000 earlier this month at the first annual BrownFest live music event.
For more information on the effort to raise funds to benefit the U of I at Peoria's Brain Tumor Lab check the Facebook page: KBstrong – Fighting the Fight.
Walk for the Mind also benefits the Brain Tumor Lab. For more information, check out marklinderwalkforthemind.org
As for Symptoms to Watch For:
Persistent headaches, a sudden seizure, short term memory loss, depression or mood swings.
Copyright 2021 WEEK. All rights reserved.